ICO brings together international investors and issuers at the 7th ICO Sustainable Bond Forum
09 June 2023
7th ICO Sustainable Bond Forum was inaugurated by the Director General of the Treasury and Financial Policy, Álvaro López Barceló, and by the Chairman of ICO, José Carlos García de Quevedo
The Deputy Governor of the Bank of Spain, Margarita Delgado, closed this seventh edition
Instituto de Crédito Oficial organizes the conference in collaboration with BBVA, Crédit Agricole, HSBC, ING and Santander. Throughout the years, it has become a reference space to assess the evolution of the green, social and sustainable bond markets
ICO maintains its leadership as an issuer of sustainable bonds after accumulating a total of 14 issues (9 social bond issues and 5 green bond issues) for a total amount of 7 bn euros
These issuances are part of ICO's strategy to contribute to the growth of the sustainable bond market and ensure the channelling of funds to finance projects linked to sustainability from a social and environmental point of view, in line with the Government's Recovery, Transformation and Resilience Plan
The Director General of the Treasury and Financial Policy, Álvaro López, and the Chairman of the Instituto de Crédito Oficial (ICO), José Carlos García de Quevedo, inaugurated the ICO Sustainable Bond Forum, which reaches its seventh edition this year. The Deputy Governor of the Bank of Spain, Margarita Delgado, closed the event.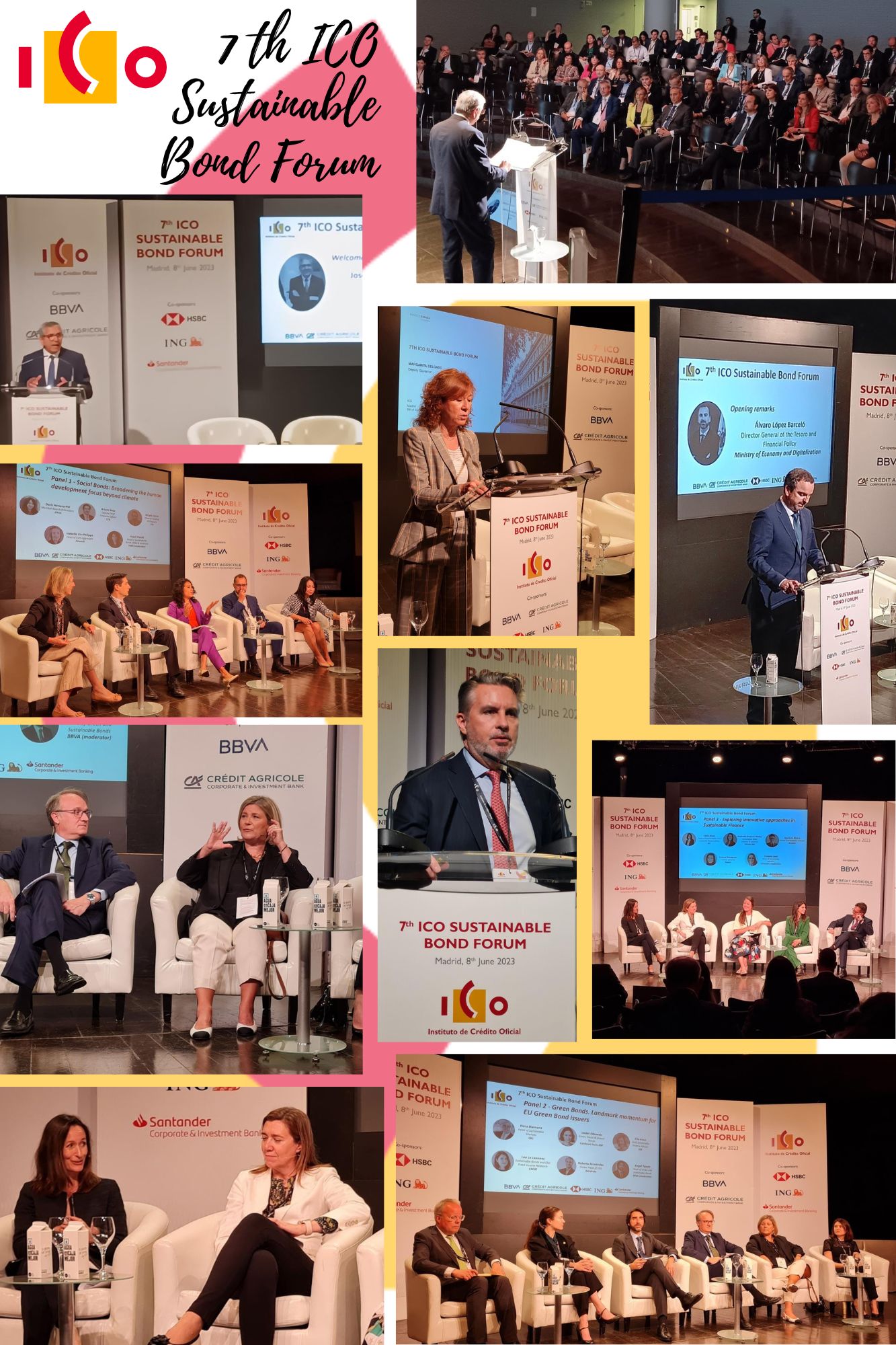 The Forum, organized by ICO in collaboration with BBVA, Crédit Agricole, HSBC, ING, and Santander, brings together in Madrid important players in the sustainable finance sector, both national and international: issuers, investors, agencies, banks and other participants in the field.
Throughout the day, the speakers analysed the current situation, the evolution of the market – the volume of sustainable bonds in the first quarter of 2023 exceeds by 14% what was issued in the same period of 2022 – and the new opportunities and challenges of the sector.
This 7th edition of the ICO Sustainable Bond Forum featured the participation of prominent representatives of financial institutions, companies and the public sector in three panels: "Social Bonds: Broadening the human development focus beyond climate", "Green Bonds: Landmark momentum for EU Green Bond issuers", "Exploring innovative approaches in Sustainable Finance"
Role of ICO in the sustainable bond market
ICO, as a reference player in the sustainable bond markets, has already launched 14 issues (9 social and 5 green), with a total amount issued of 7 bn euros.
ICO channels the funds raised with these issues to the business fabric through its direct financing programs, ICO's Mediation Lines and the funds managed by AXIS, its venture capital subsidiary.
Last February, ICO launched its fifth green bond issue which, together with the previous four, add up to a total amount of 2.5 bn euros destined to finance activities, investments and projects of Spanish companies that contribute to boost the ecological transition, in line with the objectives of the National Recovery Plan, Transformation and Resilience. This fifth green issue, amounting to 500 million euros, was very well received in the markets, registering a demand of more than 4.5 bn euros.
With the first four operations, whose impact reports have already been published, ICO has promoted to date 37 renewable energy and clean transport projects of Spanish companies, which have mobilized an investment of approximately 15 bn euros and will avoid the emission of almost 900,000 tons of CO2 per year.
ICO has launched nine social bond issues amounting to 4.55 bn euros. Social bonds promote social and territorial cohesion and generate a positive impact on employment. ICO was a pioneer in this market issuing its firs social bond in 2015, before there were any specific social bond guidelines.
With its social bonds, ICO has financed more than 69,000 projects of self-employees, SMEs and companies, which have contributed to generating or maintaining more than 444,000 jobs.